Pre-order now!
From 1198 €
incl. VAT & Shipping
Only limited quantities available in 2023
6 Gears
Optimierte Ganganzahl mit abgestimmter Spreizung für den Einsatz im E-Bike
High overall Gear Ratio
Die Gesamtübersetzung von etwa 400 % ermöglicht maximale Steigfähigkeit und hohe Endgeschwindigkeiten.
Shifting under Load
Auch unter Last lassen sich die Gänge problemlos und präzise schalten. Gerade im E-Bike steigt der Fahrkomfort deutlich.
Precise Shifting
Mit dem ergonomischen Drehgriff lassen sich alle Gänge knackig, präzise und mit konstantem Widerstand schalten.
Spoke Mount
New high strength spoke mounts in clean apperance for easy changing of spokes
Long Life Span
Long life span even under higher loads in E-Bikes
Schrägverzahnung
Geräuscharmer Lauf der Verzahnung in allen Gängen und Geschwindigkeiten
Berganfahrhilfe
Kein lästiges Zurückrollen am Berg. Somit können beide Hände vom Lenker genommen werden.
Neutral Gear
The neutral gear (N) allows pushing the bike backwards by disabling the roll back stop of the hill assist
Number of gears
6 + N
Overall gear ratio
396 %
Dropout
variants
135 mm x 10
142 mm x 12
148 mm x 12
Brake disc size
180 mm
203 mm
Chainline
54,7 mm
Sprocket / belt mount
9-Spline
Gear
Gear Ratio
Distance travelled per crank rotation
1st Gear
3,15
2,21
2nd Gear
2,34
2,97
3rd Gear
1,74
3,99
4th Gear
1,47
4,75
5th Gear
1,00
6,96
6th Gear
0,80
8,74
Maximum torque pedal
44:15 Primary Gear Ratio
250 Nm
Oil change interval
First change after 1000 km or one year
Subsequent changes after 5000 km or once per year
Number of spokes
32
Type of spokes
Straightpull
Rim sizes
20" - 29"
E-Bike requirements
Free wheel at the crank/ motor
Weight
< 2 kg
Compatibility  Thru Axle System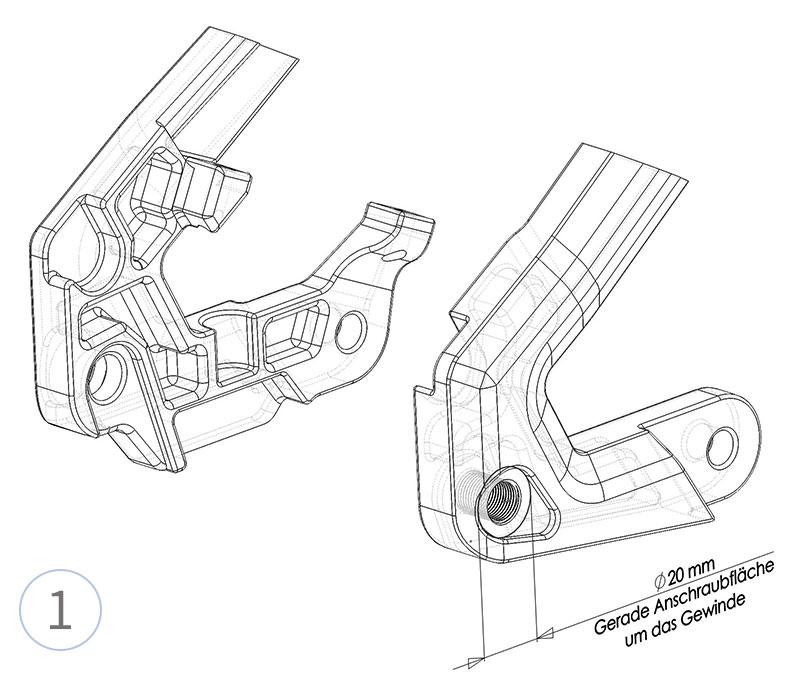 There must be a straight mounting surface for the adapter on the outside of the frame with a minimum diameter of 20 mm.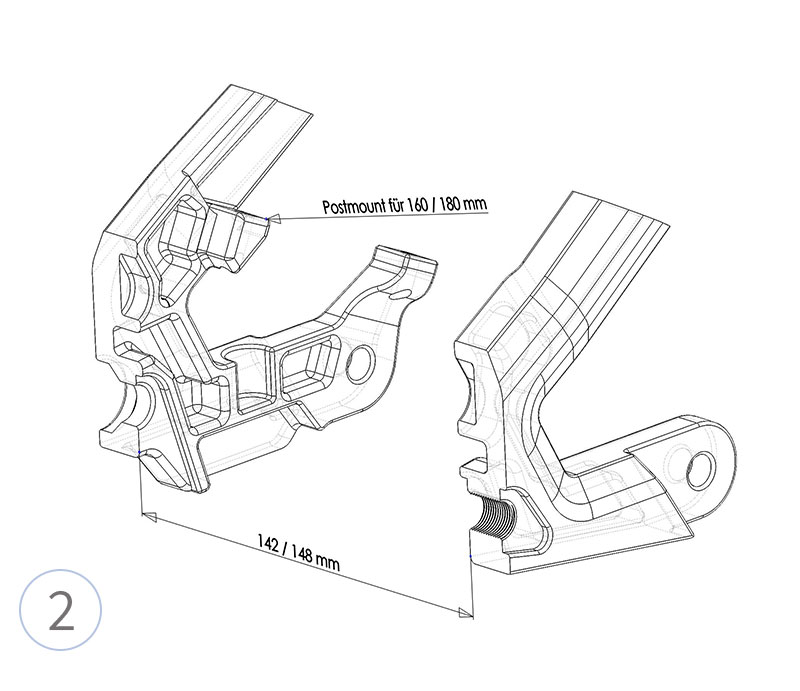 The frame width between the dropouts needs to be 142 or 148 mm. Postmount points suitable for 160 mm or 180 mm brake disc are necessary.
If there is a straight stop at the left dropout, the frame width must be between 12 and 15 mm. The frame width on the right side must be 14 - 17 mm and there must be a M12 thread with a pitch of 1.0, 1.5 or 1.75.
If there is a 45° cone at the left dropout, the shown dimension must be between 7 and 10 mm.
Compatibility  Vertical Dropouts
The hooking area for the axis must be slightly more than 10 mm in diameter or width.
The frame width between the dropouts needs to be approx. 135 mm.
There must be postmount screw-on points for a 160 mm or a 180 mm brake disc.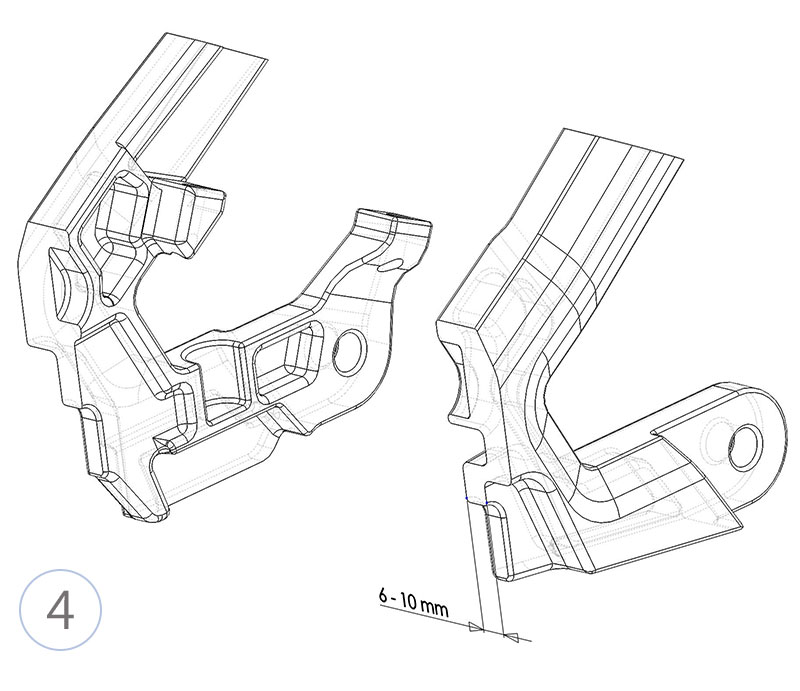 The frame thickness must be between 6 mm and 10 mm at the axle mounting surface.
Spokes' Length Calculator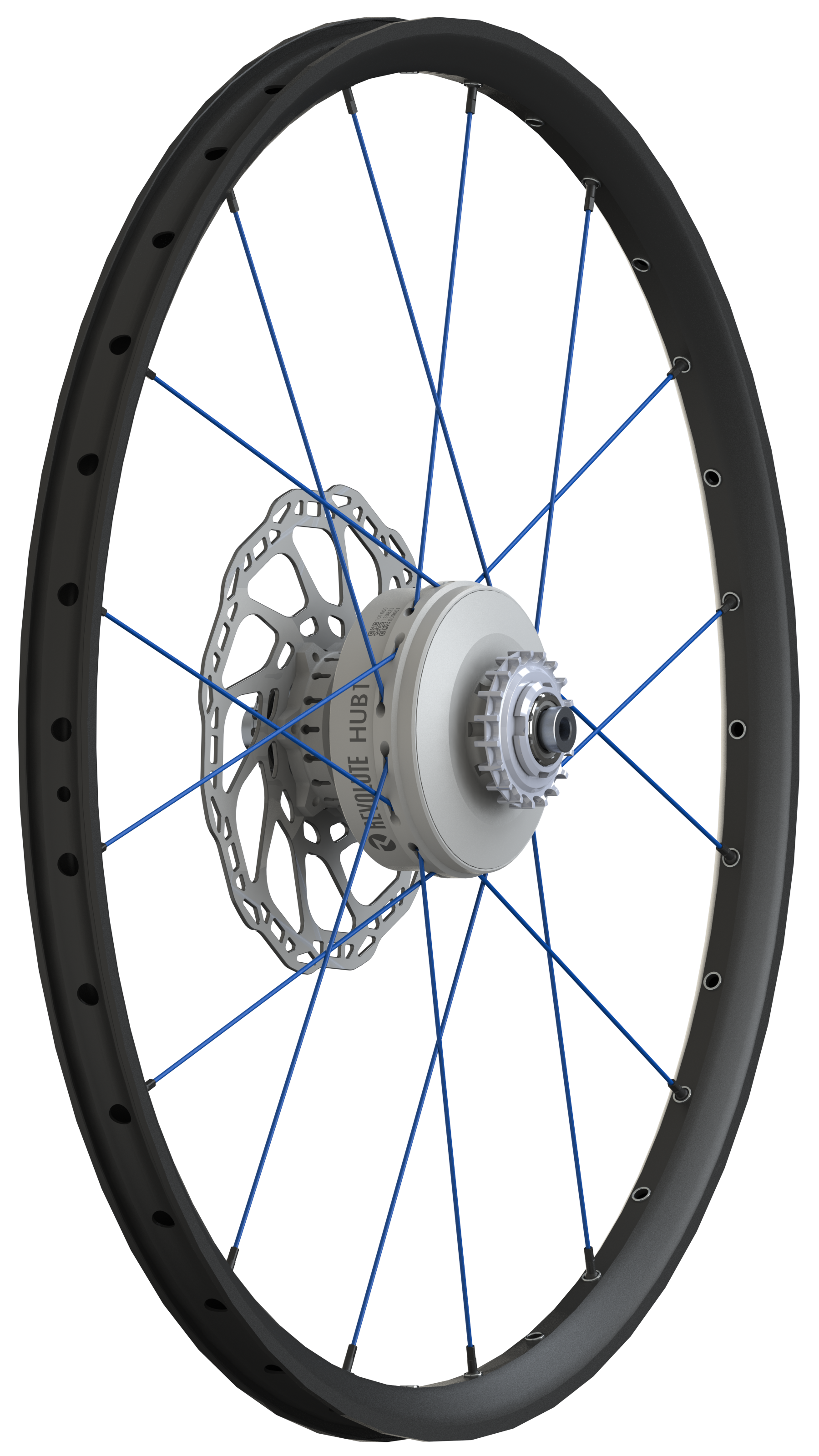 Spoke length from the driving unit side
Spoke length from the brake disc side
Leider können wir den Einbau der Nabe nicht selbst vornehmen. Mit jeder Nabe wird allerdings eine Einbauanleitung mitgeliefert, sodass die Nachrüstung auch in Eigenarbeit in adäquater Zeit zu bewältigen ist. Dein örtlicher Händler kann Dich allerdings sicher auch beim Einbau unterstützen.
Da wir den Freilauf der E-Motoren zur Realisierung einer Berganfahrhilfe, beziehungsweise eines Rückrollstops nutzen, ist die Nabe in der aktuellen Version nur für die Verwendung in E-Bikes vorgesehen. Wir schließen allerdings nicht aus, dass in Zukunft eine angepasste Nabe mit zusätzlichem Freilauf und niedrigerem Gewicht für die Nutzung in nicht-motorisierten Bikes verfügbar sein wird. Hier können wir derzeit allerdings noch keine Infos nennen.
Das maximale Eingangsdrehmoment wird voraussichtlich über den aktuell auf dem Markt verfügbaren Naben liegen. Wir führen gerade noch mehrere Lebensdauertests durch, um zeitnah einen Wert festlegen zu können. Wir haben die Schaltung speziell für hohe Drehmomente ausgelegt und zudem ein Sicherheitselement eingebaut, welches bei Überlast leicht durchrutscht ohne kaputt zu gehen um die restlichen Teile zu schützen und eine hohe Lebensdauer erreichen zu können.